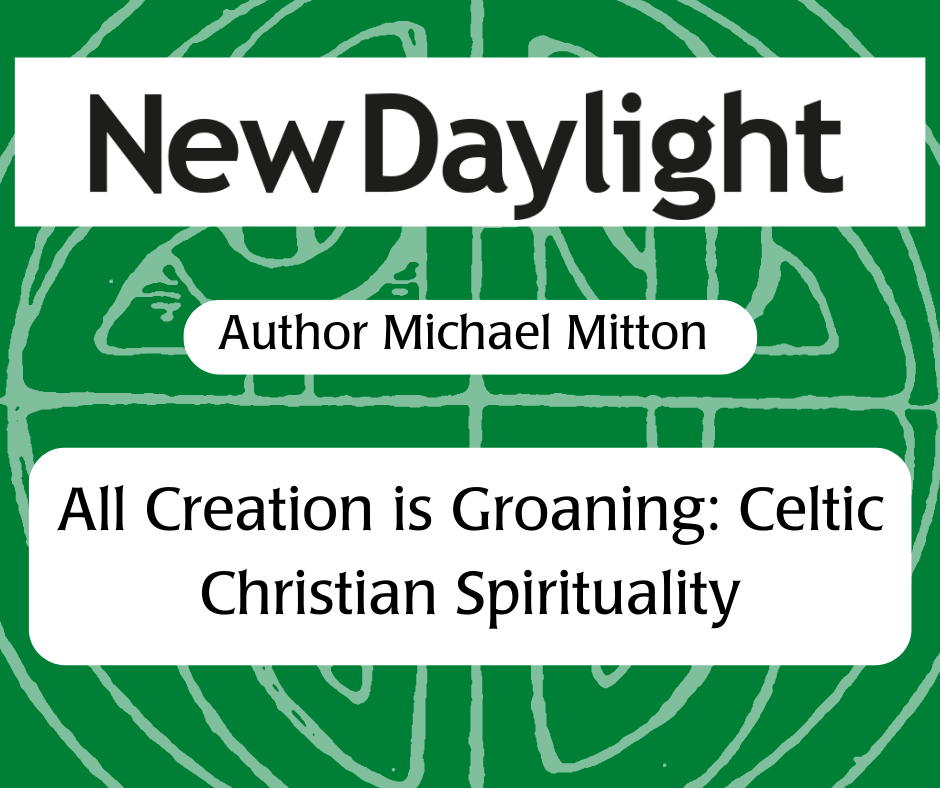 Meet the writer: Michael Mitton, New Daylight, 1-11 September
All Creation is groaning: Celtic Christian spirituality


Michael Mitton works as a freelance writer, speaker and spiritual director. He is also a canon emeritus of Derby Cathedral. Formerly he has worked for the Diocese of Derby as the Fresh Expressions Officer, and before that was National Director of Anglican Renewal Ministries and Deputy Director of the Acorn Christian Healing Foundation. He developed a strong interest in Celtic Christian spirituality during the early 1990s, during which time he wrote the first edition of his Restoring the Woven Cord which was revised and republished in 2019 (BRF). He is regularly asked to speak on this subject, and he is also involved with Russ Parker in leading Pilgrimages to Celtic sites. He has written nine non-fiction books, including Seasoned by Seasons and more recently has taken to writing fiction through his Dorchadas Trilogy (Amazon). He lives in Derby with his wife, Julia.

We asked Michael about his latest series for New Daylight

What do you enjoy/value most about writing for New Daylight?

I have been writing New Daylight notes for ten years and it doesn't get any easier with time! The challenge is to comment on a bible passage in less than 400 words. It is the equivalent of asking a preacher to preach a sermon of under two minutes! But whilst it is a challenge, it is also an excellent discipline:  to explore the wonder of Scripture, to meditate on it, let it speak to me, disturb and excite me, and then distil this interaction into a few words that hopefully will bring as much life to the reader as it has to me.

What inspired your series on All creation is groaning?

I have always loved Romans 8.19-26 because in these few verses, Paul teaches that there is a dynamic and beautiful connectedness between the Spirit, creation and humans. If ever there was a passage of scripture that stirs us to care for creation, it is this one. For here in this passage the Spirit, creation and humans are all united in one experience: namely that of groaning. What I hear in it is a touching unity, whereby the Spirit stirs us to engage in creation, not only delighting in its beauty, but also groaning with it as we become aware of its suffering. Creation itself is just longing for the children of God to be revealed. According to Paul, creation believes it is such children who can help it. Alongside this scripture, I also drew on my love of the early stories of Christian faith from the Celtic era. These stories are rooted in communities who lived far closer to nature than we do in our sheltered existence, and that closeness gave them perceptions about creation that can inspire us today.

What did you learn from writing it?

By exploring the scriptures and the stories of the early Celtic Christians, I was reminded of the glory that is so evident in God's creation, and yet it is a glory that is so easily overlooked by busy lives. I also felt a sense of shame. Even allowing for some romanticising of the early Celtic saints, there is still nonetheless an impressive love and respect for creation in this early church. I can't help thinking that if this creation-affirming spirituality had prevailed, then throughout the course of history Christians would have been at the forefront of caring for creation and would have been far more respectful of those indigenous communities that have such a high regard for nature. But sadly, this has not been the case.

What is the key thing you hope your readers might take away from the series?

I hope the scriptures will come alive for them as they have for me. The varied terrains of garden, mountain, desert, wells and sea all hold significance in the bible, and such significance was readily acknowledged by the early Celtic Christians. I hope that with these Celtic saints as our guides, readers can engage with the different aspects of creation, and their discipleship will deepen as a result. And I hope all of us will hear God's personal call for how we can be better guardians of his aching and wonderful creation.