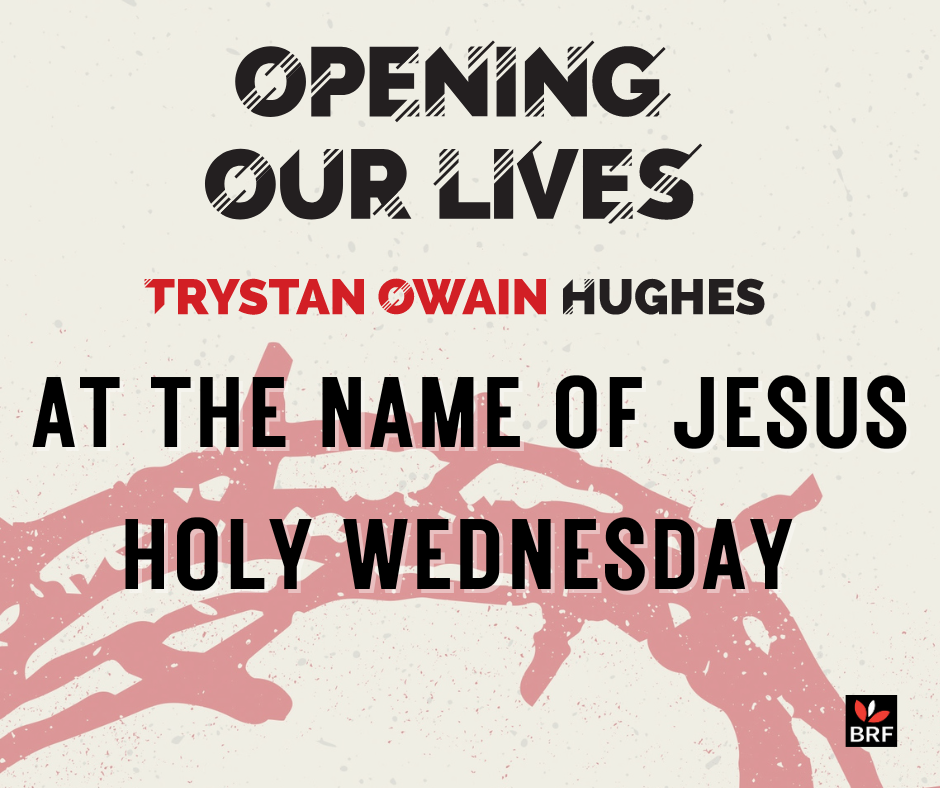 Holy Wednesday - At the Name of Jesus - Trystan Owain Hughes
Holy Wednesday
At the name of Jesus
Now it was the governor's custom at the festival to release a prisoner chosen by the crowd. At that time they had a well known prisoner whose name was Jesus Barabbas. So when the crowd had gathered, Pilate asked them, 'Which one do you want me to release to you: Jesus Barabbas, or Jesus who is called the Messiah?' For he knew it was out of self-interest that they had handed Jesus over to him. While Pilate was sitting on the judge's seat, his wife sent him this message: 'Don't have anything to do with that innocent man, for I have suffered a great deal today in a dream because of him.' But the chief priests and the elders persuaded the crowd to ask for Barabbas and to have Jesus executed. 'Which of the two do you want me to release to you?' asked the governor. 'Barabbas,' they answered. 'What shall I do, then, with Jesus who is called the Messiah?' Pilate asked. They all answered, 'Crucify him!' 'Why? What crime has he committed?' asked Pilate. But they shouted all the louder, 'Crucify him!'
MATTHEW 27:15–23
For people in the ancient world, a person's name said something essential about them. Even today, we forget how important our names are to us. In Welsh, we rarely, if ever, introduce ourselves by saying 'My name is Trystan'. Rather, we say 'I am Trystan' (Trystan 'dwi). In other words, our names are absolutely integral to who we are – they define us to our core. I made a video some time back in which we asked people, 'Who are you?' In almost all the interviews, the first answer holy week was their name. Only when prompted did they flesh out their answer with, 'I'm a mother', 'I'm a lawyer', 'I'm a rugby supporter' and so on.
Scientists have even shown that a child's name has a major impact on their life. Research is being carried out to find out why there are a hugely disproportionate number of certain names, like Eleanor, Catherine and Peter, at Oxford University. There are also numerous studies into nominative determinism, researching why people are often drawn to trades and professions that relate to their surnames – why there are higher percentages of cooks with the surname Baker, of ministers of religion with the surnames Bishop and Parsons, and so on. (Then, we have the world-record-breaking sprinter Usain Bolt, a famous Chinese-American lawyer called Sue Yoo and two prominent urologists called D. Weedon and A.J. Splatt!).
In the ancient world, it was a common belief that a name could express a person's destiny. In the Jewish tradition especially, a person's name was not just a label. Rather, a name said something profound about that person, so much so that people even changed their names if they went through a life-changing event. For the early Israelites, a name reflected a character and identity – through your name, the world would know something about who you were, what you did and where your life was heading.
The name Jesus was popular among first-century Israelites. It is a form of Joshua, meaning 'God saves'. The early church father Origen was so troubled by the fact that today's passage gives Barabbas the forename Jesus that he suggested that it must have been added by a heretic who had cunningly adapted the gospel. Although 'Barabbas' is now a colloquial slur in various languages (such as Spanish, Serbian and Croatian) for a bad person or rogue, many have suggested that Barabbas' crime may simply have been a desire to free the Jewish people from their Roman oppressors. In the blockbuster film King of Kings (1961), for example, Barabbas is depicted as a friend of Judas Iscariot, with both being aligned to the Zealots, a Jewish political group determined to bring down their Roman oppressors. Likewise, the later animated film The Miracle Maker (1999) also presents Barabbas as a Jewish insurgent, determined to save Israel from Roman captivity.
So it makes sense that Barabbas' name was Jesus – he was also interested in saving people. The salvation offered by Jesus of Nazareth, though, is very different from that promised by the first century Jewish Zealots. The angel in the Christmas story informs Joseph that his son is to be named Jesus because he 'will save his people from their sins' (Matthew 1:21). Very different from Barabbas' promise of redemption through power and violence, Jesus' salvation deals with our worries, anxieties and destructive patterns of thinking and behaviour. He brings a peace that the world cannot give (John 14:27).
In this sense, Jesus' salvation is very much related to conquering fear. The angels in the birth narratives of both Luke and Matthew not only announce the importance of Jesus' name, but they also reassure Mary and Joseph that there is no need to be afraid. Fear can keep us trapped and incarcerated, which can lead to anxiety, sadness and even isolation. Salvation, though, brings freedom from the enslavement of such temptations or worries. It brings peace to our pain and suffering. It brings hope to those of us who sometimes feel lonely, sad or misunderstood. Yes, that was part of the message of Christmas, but it is also very much part of the message of Holy Week – a week that guarantees us that the rejected, tortured and crucified Jesus stands alongside us in these struggles.
Reflection
Take some time to consider your own difficulties and struggles. You may be inclined towards worry, depression, a particular temptation, anxiety or anger or you might have times of loneliness or sadness. Take heart in the fact that Jesus knows what suffering is and that his salvation ensures our struggles can be redeemed. In a time of silence and prayer, ask God to bring you something of his peace that passes all understanding.
Trystan Owain Hughes is Tutor in Applied Theology at St Padarn's Institute, Cardiff and is the Church of Wales' first Director of Ministry Development. He is particularly interested in making theology and spirituality relevant and he has written, among other books, Real God in the Real World and Living the Prayer for BRF. Trystan has also been a regular contributor to BBC Radio 2 and BBC Radio 4, is an honorary senior lecturer at Cardiff University, and is Canon Theologian at Llandaff Cathedral.