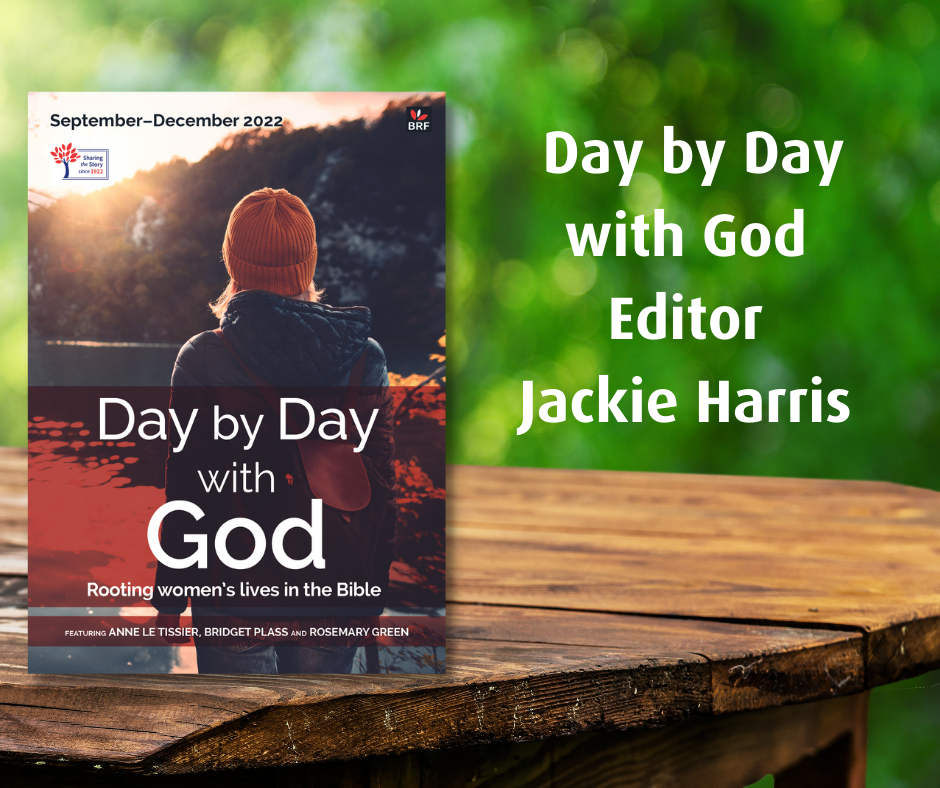 Day by Day with God Editor- Jackie Harris
I love editing Day by Day with God. When I wrote my first editorial, I described it as a huge blessing, and it continues to be so. That first issue was edited during the first lockdown in 2020 and I was hugely grateful to have something so positive and life-affirming to focus on. I continue to be thankful for that as we face increasingly challenging and worrying times.
Now, having a few issues under my belt, I am also finding that studies I commissioned or edited months ago are ministering to me. This was particularly so earlier this year when the notes for the day brought comfort during a family tragedy and helped me to pray through my grief and questions.
I also feel blessed to be part of a team of wonderful women who love God's word and want to help others grow in their knowledge and understanding of the scriptures. These include the team at BRF and a growing number of freelance contributors.
Our writers come from varied backgrounds and bring a whole range of  experience and expertise to their Bible studies. Some prefer to write on specific themes, others are open to anything and will accept a challenge. I am always encouraged to hear how much they enjoy writing the Bible studies. There is a lot of time, care and prayer that goes into these studies, and I think that comes through.

Planning an issue is both enjoyable and a little daunting. I try to jot down ideas as they come, so I am not facing a completely blank page. I tend to work through a list of types of studies to try and ensure a good variety and breath of topics in each issue. These include books or narratives, character studies, focusing on a word or image, exploring a theme or particular topic, something practical and then something that focuses on Jesus.

Ideas come from various sources. Sometimes a contributor will get in touch to suggest a topic that they have been thinking through or something I have read or heard sparks an idea. I loved Rachel Turner's talk on the wilderness experience in last year's online women's conference, so I asked her if she could develop that into a Bible study. (You can read that in the Jan-April 23 issue.)
Easter and Christmas can present a challenge. I want to find something that is relevant but doesn't repeat what we've done before. This Christmas we will be looking at the ministry of angels, going behind the images on our Christmas cards to explore what the Bible tells us about these awesome messengers and how encounters with angels change lives. Other topics coming up in the autumn and in the new year include what the Bible says about work, how to recognise God's guidance, the story of Moses, Jesus' final conversations as he approached the cross, breaking the worry habit and studies on 1 Corinthians, the book of Judges and Romans 12. My hope is that we are tackling topics and themes that will be relevant and really help women grow in their faith and relationship with God. A line from a hymn by Timothy Dudley-Smith which we sang at BRF's centenary service in June has stayed with me: 'Teach us to love the scriptures, Lord, to read and mark and learn; and daily in your written word the Living Word discern.' Day by Day with God is helping me to do that and I'd love to think the notes play a part in answering that prayer for our readers.
Jackie Harris is married to Ray and lives in Worthing. A freelance editor, Jackie was previously editor of Woman Alive, the magazine for today's Christian woman.