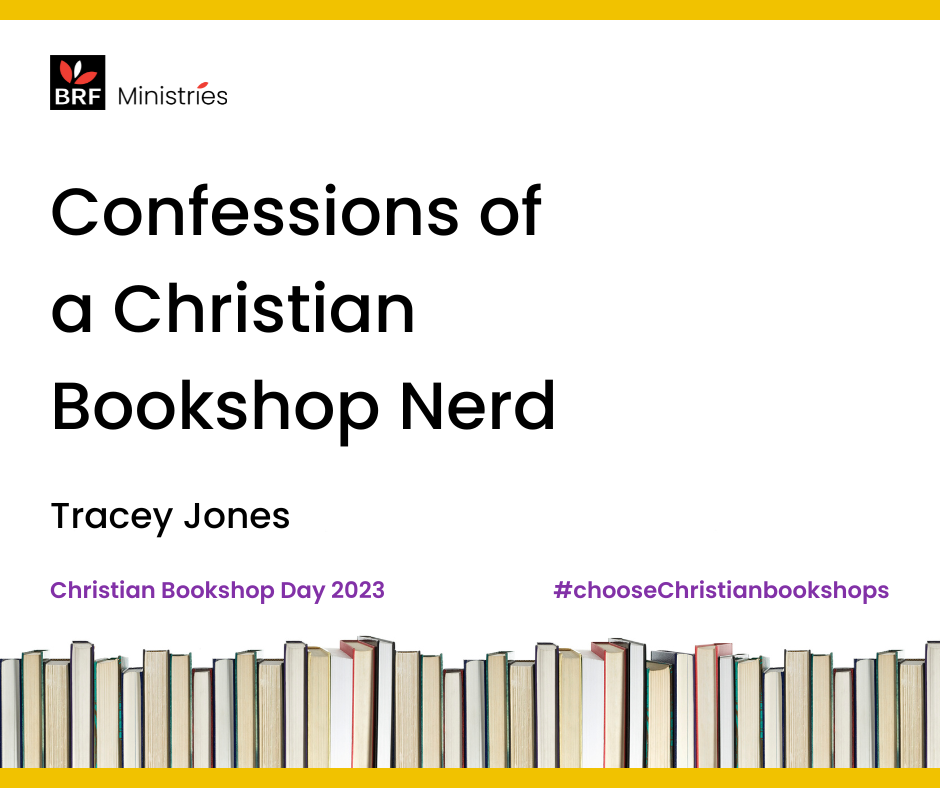 Confessions of a Christian bookshop nerd
Well, they say 'confession is good for the soul', so, in light of that and Christian Bookshop Day approaching on 14 October, it's probably about time I confessed my Christian bookshop story, and made some apologies. So, grab a cuppa and enjoy these confessions of a Christian bookshop nerd…
Although I've lived in England for years, I am originally from Northern Ireland, from a small- to mid-sized town called Magherafelt in Mid-Ulster. To answer some of the questions I regularly get; yes, it's very green and very wet, it's also stunningly beautiful and the people are great, but no, I've never met a Leprechaun, nor have I found a pot of gold at the end of a rainbow!
'… a treasure trove to this teenager who was dead serious about following Jesus.'
When I was a teenager there were Christian bookshops in most larger towns across Northern Ireland, in fact there still are, but as far as I was concerned the best Christian bookshop in Northern Ireland was the Faith Mission bookshop in Ballymena. It was amazing. Spread across two floors and packed with all kinds of books, music and gifts, it was a treasure trove to this teenager who was dead serious about following Jesus.
My mum would drop me off at the bookshop while she went to the adjacent shopping centre. Then she would arrive back to find me moving at a snail's pace through every aisle and shelf, maybe even for a second or third time. It was long before iTunes, Spotify, YouTube and social media. We were still in the era of VHS, cassettes, CDs and books, and who could forget a good old 'mix tape'?
I was a bit of a late bloomer academically and while at school I really only had passion for one subject and that was music. Coupled together with my Christian faith, I was deeply passionate about worship and excited by the new sounds of contemporary praise and worship, and fresh expressions of old hymns. I couldn't wait to get to the Faith Mission on a Saturday or on a day off from school to discover what had been newly released and to check the posters which were on the door and the noticeboard to see what concerts and events were happening and where.
I'd rush home with whatever new album or video I'd bought, to listen to it or watch it straight through from start to finish. I'd devour books when I got them whether they were about general Christian living, Bible commentaries – I LOVE Bible commentaries – biographies, or fiction such as Frank Perretti's This Present Darkness and Piercing the Darkness.
There was just something so special about stepping into the bookstore. I may not have spent huge amounts of money, but I went in with wide-eyed wonder at what was there and how it could help me grow in my relationship with Jesus. It felt 'safe' in many ways for an introvert like me who needed plenty of space and quiet. 
'… with wide-eyed wonder.'
There is no question that there were many aspects of school and being a teenager that I found really difficult, but I loved music. Music was my passion, and I had an amazing music teacher who had the patience of a saint, encouraged me at every possible opportunity, and who, I think, wanted me to prove the 'naysayers' wrong more than I did!
'I loved music and I loved Jesus.'
Sixth form, for a plethora of reasons, was a bit all over the place for me. But for all the typical teenage angst, drama and mess, I loved music and I loved Jesus, and I knew early on that they went hand in hand together. So, I listened to and studied Christian musicians, worship leaders and songwriters, eager to glean every bit of wisdom and knowledge I could to help me to learn and grow as a worship leader. It got easier too when I passed my driving test because I no longer had to rely on my mum or dad getting me to the bookstore, I could go on my own.
AND GO I SURELY DID.
I used to drop my mum off at the Mid-Ulster Hospital in Magherafelt where she worked first thing in the morning and then drove straight to Ballymena. I would quite smugly pull into the Faith Mission Bookshop car park to spend a good hour or two pouring over the book and music sections knowing full well that where I was actually meant to be was in Ms Kimber's A-Level music lesson in the Rainey School studying Bach four-part chorale harmony and operatic overtures! I'd make sure I was back in time to casually pick my mum up to go home for lunch with her blissfully unaware that the music I was playing in the car was probably bought that morning when I was busy skipping school at the Christian bookshop! I'm not even sure I had any particular or reasonable excuse for Ms Kimber, she was ever so gracious and kind. Eventually, I settled enough to get through A-Levels, and Bach, Mozart and I managed to get on quite well in the end.
'… she was ever so gracious and kind.'
As later years would certainly prove, I am a theological geek, in the very best sense of the word, I just love it. I went on to study theology at Queen's University Belfast and Belfast Bible College, then moved to England to work as a professional musician and later studied for a masters in music, specialising in composition and performance, at Leeds College of Music (now Leeds Conservatoire). I have been a worship leader for over 27 years now and I believe it is the very thing I was made to do. The books, albums and videos I bought – even while skipping school – began the process of God shaping me as a Christian, worshipper and a worship leader. A process which continues today. And now, somehow, I've ended up working in publishing Christian books and resources, while continuing to study for my masters in theology. I never cease to be amazed by the Lord's careful design or his humour in how he does it!
I am not in any way condoning truancy, well maybe a little, but for me, a Christian bookshop has always been a little sanctuary, a place of discovery, peace and encouragement. In those latter teen years, it was much needed, and I was grateful for it. In the age of online shopping there is just something so tangibly special about stepping into a bookshop, picking up the books, chatting with someone, really taking time to search and discover new things.
I still love going to the Faith Mission bookshop, although my allegiance has slightly shifted to Coleraine (sorry Ballymena!). My mum and I go every time I'm at home visiting. She gets comfy on the sofa, having a chat with the staff and having a skim read to see which books she wants to buy while I, true to form, still move at a snail's pace around every aisle and shelf, maybe even for a second or third time.
PS. Ms Kimber, I'm so sorry I skipped your class to go to the Christian bookshop! Thank you for sticking with me not only as a teacher but even more so as my friend for all these years.
PPS. Erm… sorry mum!
To find out more about Christian Bookshop Day visit booksaremybag.com
Tracey Jones is the marketing officer for BRF Ministries.