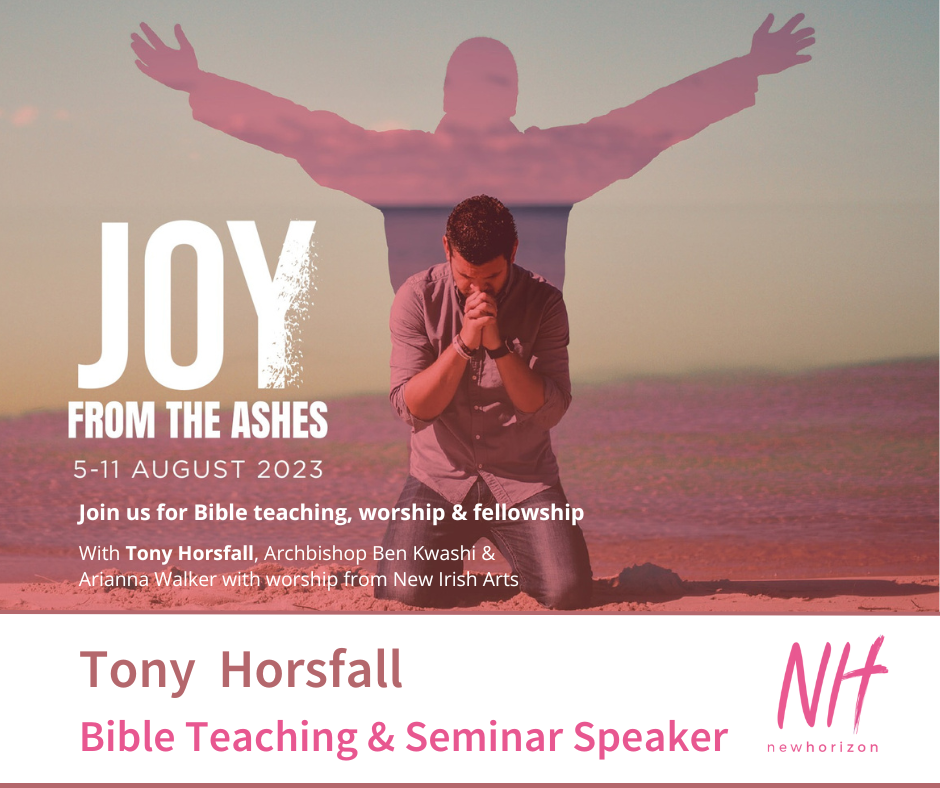 Tony Horsfall at New Horizon 2023
Summer festivals are in full swing across the UK and, for the most part, the weather has been kind. Our Parenting for Faith teams have been at New Wine where they have had hundreds of conversations (and probably hundreds of cups of coffee too!) and our Messy Church teams will soon be off to Greenbelt. Our authors have also been busy out and about at various conferences and events sharing about their work and writing.
A remarkable event  
On Saturday evening another Christian festival begins on the beautiful North Coast of Northern Ireland- I'm slightly biased as it is my homeland! New Horizon is truly a remarkable event that draws people from all across the UK and Ireland, and sometimes from even further afield. 
Every generation from young to old is represented, and whether the sun is shining or it's a torrential downpour, the 'big tent' and the overflow tents are almost always full. For seven days people gather to learn, pray and worship God together, enjoy fellowship and have fun too- the festival site (Ulster University, Coleraine) is a 5 min drive from gorgeous golden sandy beaches in Portstewart and Portrush, with great restaurants and ice cream (again, I'm slightly biased)! 
Every generation from young to old is represented
I'm delighted that this year different parts of my world are happily colliding as one of our most popular and beloved authors, Tony Horsfall, will be delivering the bible teaching at New Horizon for the week, and he, alongside his wife Jilly- a trained counsellor, will also be leading a seminar on 'Dealing with Disappointment'.
As the theme for the week is 'Joy from the Ashes' Tony will be teaching on Isaiah 61 drawing on his own experiences of painful loss during the pandemic and his many years of deep reflection on the word of God and the joy-bringing life it brings.
As our communities and churches continue to recover from the pandemic, and battle the current challenges of the cost of living crisis, 'Joy from the Ashes' as a theme is timely indeed. New Horizon chairperson, Paul Coulter comments on this year's theme saying, 'joy is a tricky concept for many of us. We confuse it with happiness and wonder how it is possible when life is tough. But the Bible speaks of God bringing joy from the ashes and we want to learn from him what that means, with the help of testimonies, Bible teaching and uplifting praise.'
The Bible speaks of God bringing joy from the ashes
I'm not sure that I had ever fully understood what it was to experience joy in suffering until my father died tragically in a fishing accident last year on the North Coast, in Portstewart, and during the New Horizon week. As Paul Coulter acknowledges, 'joy is a tricky concept'. I don't know if New Horizon was praying for my Dad and our family specifically over those few days, but I do know that hundreds of people on the North Coast, many of whom were attending New Horizon, and across Northern Ireland were praying. We witnessed a miracle in finding my Dad in just over 24 hours (the Atlantic Ocean is fierce even on the most beautiful of days). I have no doubt the Lord heard every prayer and cry ascending. What carried me through those dark days was an almost inexplicable, deep, deep, joy and confidence that my Dad was with his Saviour, safe and well. It seemed like such a contradiction, a painful juxtaposition, but for the first time I had truly and deeply experienced joy in suffering. My 'Joy from the Ashes' if you will. 
If like me you are in a season of mourning or loss, difficulty, suffering or challenge take heart in Isaiah 61 and join Tony at New Horizon to hear all that the Lord has laid on his heart around this ancient text. 
'... to comfort all who mourn, 

and provide for those who grieve in Zion— 

to bestow on them a crown of beauty 

instead of ashes, 

the oil of joy 

instead of mourning, 

and a garment of praise 

instead of a spirit of despair.' Isaiah 61: 2-3
There is no charge to attend New Horizon and if you are unable to be there in person you can follow along with the livestream and catch up on sessions and seminars online at newhorizon.org.uk or @newhorizonNI on YouTube or @newhorizonni on Facebook.
There will be opportunities to purchase books from our Tony Horsfall range, and other great titles such as the brilliant Bible in Ten from Dave Kitchen, Unveiled from Clare Hayns or This Crown of Comfort from Eva Leaf, among others, so do keep an eye out in the resources tent if you're there.