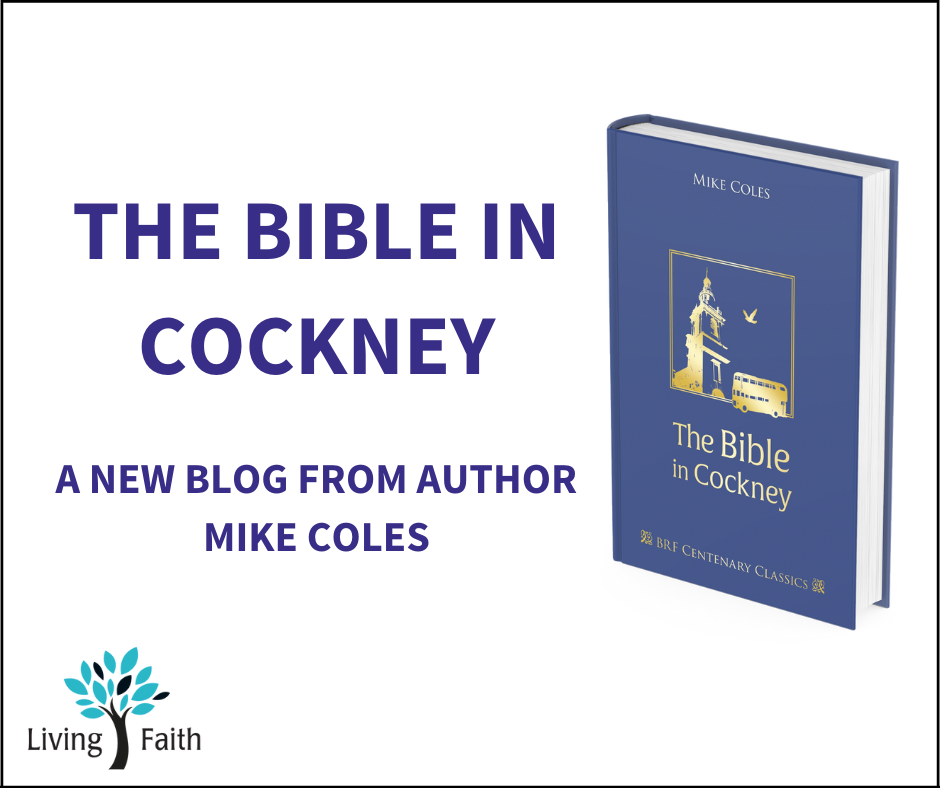 The Bible in Cockney: Centenary Classic edition
A new blog from author Mike Coles
Back in 2001, I was teaching at what was then the Sir John Cass Foundation and Church of England Secondary School in Stepney, East London. I was the Head of Religious Education there.

I'd often taught Bible stories over the years in a very down to earth way, with some Cockney Rhyming Slang added in to the stories. I'd always loved Cockney Slang, and the kids really enjoyed it as well.
In short, The East London Advertiser did a feature story on this, with the headline 'Local teacher translates Bible into Cockney Rhyming Slang!'
Well, that was it. Over the next few weeks and months, all the national papers were interested, as were TV stations, BBC News, ITV News and more. With all that publicity, I received a letter from BRF showing interest in my idea, and the rest, as they say, is history.

The publicity for me was just all great fun, and the kids loved it as well, with lessons being filmed, children being interviewed... and then the book was finally published there was even more publicity. I remember being well looked after by Karen Laister from BRF. As I say, I just found the whole time such fun.

Then came all the feedback. Most of it was so very positive, with various schools up and down the country using the book in their RE lessons and the children really enjoying it. I heard of someone in prison who came across The Bible in Cockney and after reading it, expressed a real interest in becoming a Christian. There was so much positive feedback.

There were some who felt the whole idea was a little irreverent, and that the beautiful language of The King's James version was being mocked. I always respected all these views, and my aim was to never upset anyone or make light of the Bible's message.

To me, the God of the Bible is someone who wants to communicate to humanity, and if the Bible in Cockney was able to do that for some people, then that is all that mattered to me. The Bible in Cockney was NEVER a replacement of all the other translated versions of the Bible, just an alternative.

I have always loved the beautiful language of The Book of Common Prayer, and still enjoy reading prayers from it regularly, because of the power of the words and language. The Alternative Service Book was not a replacement to the Book of Common Prayer, just an alternative. That's how I always see The Bible in Cockney.

I am absolutely delighted to have received the hardback version of my book as a BRF Centenary Classic. What an honour. I can't believe it was over 20 years ago that the original book was published, and receiving this hardback version has brought back so many lovely memories of my time teaching in the East End. I have always missed those kids. I have lovely memories as well of all my dealings with BRF, such lovely staff, and of course Karen who just took care of everything… it was great fun, and I'm enjoying reminiscing on those times....
Buy 'The Bible in Cockney' Now 
 Now working as a funeral celebrant in Essex, Mike Coles was for many years head of religious education at Sir John Cass Church of England Secondary School in Stepney, East London. He hated RE when he was at school, and vowed that he would never make the children suffer as he had to! He read theology at Southampton University and then studied for his PGCE at the Roehampton Institute. When he moved to the East End, he immediately fell in love with Cockney rhyming slang and started to use it in his lessons. The children loved it, he decided to write down some of his stories and – well, here they are. A keen singer and pianist, devoted Leyton Orient supporter and red hot chilli grower, Mike is up at 4.30 every morning to walk his beloved Irish Setter, Merlot, and Pomeranian Spitz, Issy. He feels 'honoured and privileged to work with grieving families and deliver a beautiful service and celebration of their loved one's life.'