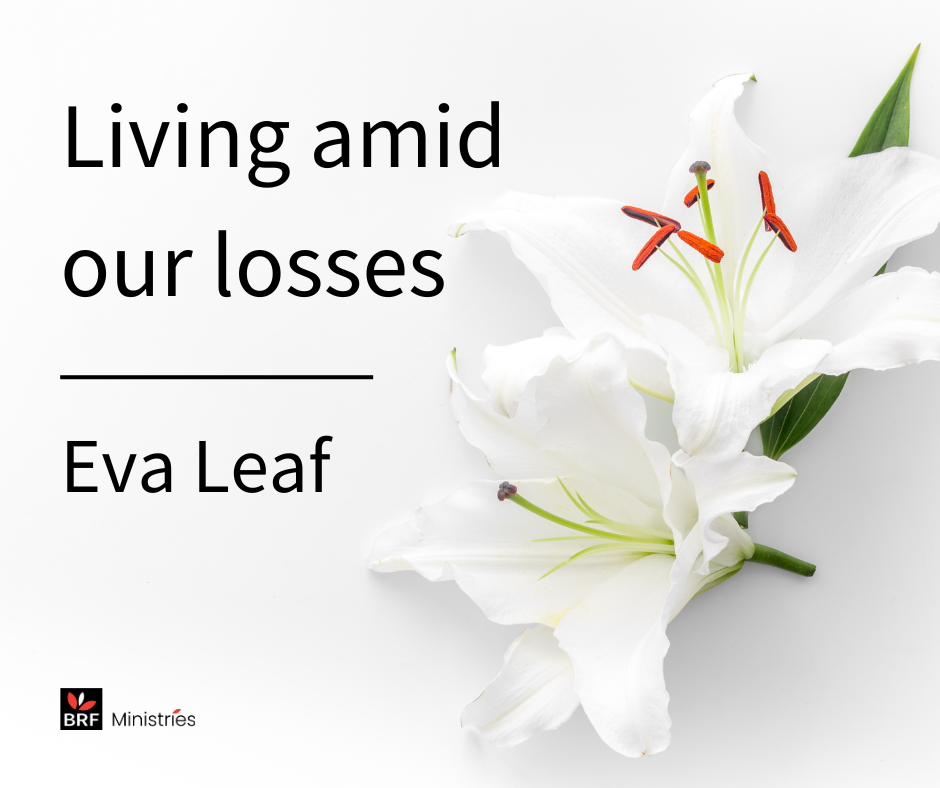 Living Amid Our Losses
Living Amid Our Losses - Eva Leaf
I would like to share what the Lord has taught me concerning loss. One year stands out. I was a young mum with a toddler and my father died. My granny died. My sister fractured her back. I had a miscarriage. Derek got ill and the doctor said he might never get better. But Derek had already handed in his notice at work because we had just joined as Nav reps. On top of that we had agreed to move to Southampton to lead the student ministry. So, I packed the house alone. Then out of the blue I suffered a painful relationship breakdown with someone I deeply loved.
It all hurt too much, and I couldn't pray.
I couldn't read the Bible or even flick through its pages. My Bible simply stayed open where it was, at Isaiah 40:1-2. "Comfort, comfort my people. says your God. Speak tenderly to Jerusalem…" In my losses, those two verses sustained me.

Unhelpful tips about loss: over the years, unhelpful cliches also came my way, advice I eventually learned was false.

Here are a few:

- The pain will go away if you ignore it.
- Time heals all wounds. It will get easier. Give yourself a year.
- Your pain doesn't really count because others have it worse.
- Don't worry. You will forget your loss.
BUT WE DON'T!!

A loss is always a loss, and it is valid. It needs to be paid attention to.

Our individual response to loss

Through it I learned that each loss is unique and personal to us. And how we respond will depend on our personality, life experience, and our faith. It will depend on how significant the loss is to us. If someone says, "I hate you," but we don't really care about their opinion, it won't bother us. But if someone we love says, "I hate you," it destroys us.

So how do we move on?

In 1969, psychiatrist Elisabeth Kübler-Ross came up with the five stages of grief. Denial, Anger, Bargaining, Depression, Acceptance. She also said this, "There is no typical response to loss, as there is no typical loss. Our grieving is as individual as our lives." And I had to learn that no matter how someone might like me to keep my emotions tidy and under control, loss is messy. and it will mess us around.

But I did discover a way through loss, and my guide was Jesus himself.

Here are some thoughts which come from Matthew 26.

- We can grieve our losses just as Jesus did. I grieve best in the silence of night. Others grieve differently. So, it is important to know who we are and how we grieve.

- We can talk about our losses just as Jesus did with God and others. Jesus prayed, "May this cup be taken from me." To his disciples he said, "My soul is overwhelmed." But he chose those with whom he shared. And we too must be careful, for others might judge us and say unkind things. Hannah in the Bible, when she wept over the loss of not having children, the priest scolded her, that is, until he understood. It is an awful thing to be scolded for our losses.
- We can find comfort in God just as Jesus did. God sent an angel to comfort Jesus, and God will send us those who can comfort us. But comfort isn't just to make us feel better. It is there to help us grow.
God used that painful relationship breakdown, and I learned a powerful lesson. I could let go of worrying about the loss of my reputation, for it is God who gives it. I could stop trying to justify myself because God would do that.
- We can get up and live just as Jesus did. To Jesus, it didn't mean he forgot about his losses. He went up to heaven with permanent scars in his hands! But there was new life at the end.
And this is what I have learned over years, that God gives new life amid the ashes. He gives incredible joy amid our losses.

Sure, I can never go back to how life was before, but I can accept the new path God has for me. My new and uncharted normal. For God gives hope in our despair. In Psalm 34:18 it says, "The Lord is near to the broken-hearted and saves the crushed in spirit." In Matthew 5:4, "Blessed are those who mourn, for they shall be comforted."

And with this comfort, we can comfort others.



Our lives are a rich testimony, showing that our losses can give life to others. The Apostle Paul said, "the God of all comfort, who comforts us in all our troubles, so that we can comfort those in any trouble" (2 Corinthians 1:3–4). It is so true.

Elisabeth Kübler-Ross made this observation: Let us become those beautiful people, loving, and living generously in our loss.
 Eva's book, This Crown of Comfort is available now:
'No matter how broken or hurt we are, we are given in this excellent book the tools or 'the calls of God' to build a bridge to healing and wholeness. This book reminds us of God's deep love for us in our time of greatest need and provides a spiritual balm for every situation.'

Dawn Braithwaite, solicitor and consultant

'This Crown of Comfort conveys seven powerful messages from Isaiah about God's tender heart towards Jerusalem. The author skillfully intertwines her many personal stories with the messages to illuminate God's unfailing love to his people. This book is an easy read yet rich with insights, comfort and encouragement – a must for anyone who seeks healing and desires to experience God afresh.'

Anissa Chung, UKCP registered psychotherapist and supervisor