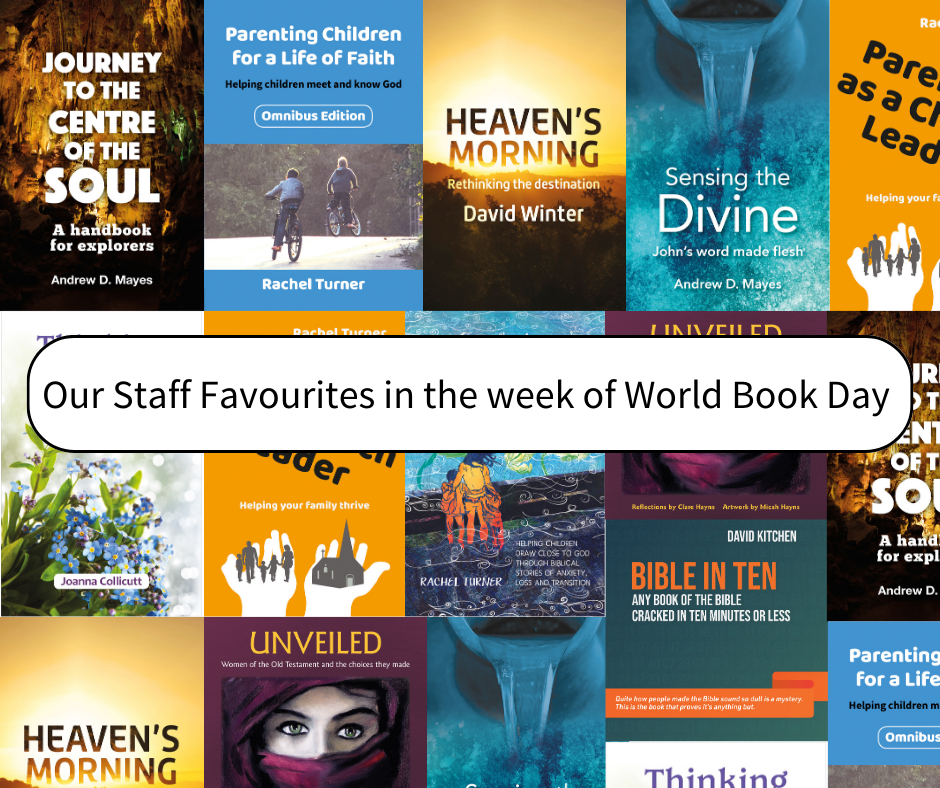 Our Staff Favourites in the week of World Book Day
It's World Book Day on Thursday 2 March so we thought we'd get ahead of it and let you know about some of our staff favourites here at BRF. We are a little biased, but we do get excited about our books! We know from our own personal experiences and through the experiences of others that our titles are helping to shape and transform lives, discipleship and ministry across all ages and communities, and we think that's worth getting excited! Check out some of our favourites below and at brfonline.org.uk.

Do you have a favourite BRF book, past or present? We would love to hear about your experiences of our books. Get in touch with our team by emailing enquiries@brf.org.uk or connect with us through our social media channels. 
So, let's get started! Kicking off our staff favourites is Olivia Warburton, Head of content creation and Living Faith ministry lead.
'I am a huge fan of Bible in Ten because it's all about reconnecting people with the Bible as a whole. It's so easy to read the Bible in tiny chunks, a few verses here, a few verses there, and as a result not really grasp what happens from beginning to end and how it all fits together. 'I am also delighted we're bringing it out as an audiobook as well as in print. The different voices, although only a dozen as opposed to the hundreds that make up the Bible narrative, do help to remind me that it's a library of books with many writers and that God speaks through all sorts of different people!'
Sensing the Divine gave me a whole new appreciation for reading John's gospel using all of my senses. It's also packed full of useful and interesting historical/archaeological observations, and is brimming with enthusiasm!'
Rachel Tranter – Editorial manager
In Thinking of You, Joanna draws upon her dual roles as a clinical psychologist and theologian to present a clear and accessible guide, helping the reader understand the experience of the person living with dementia and ways we can offer spiritual care. Essential reading for Anna Chaplains!'
Julia Burton-Jones –  Anna Chaplaincy training and development lead
'I highly recommend Unveiled, I gave some copies as gifts and my church has used it for study groups. The narration in the video is outstanding and so many of the women featured in the book have stories that are relevant and encouraging today.'
Julie MacNaughton – Head of fundraising
'This beautifully illustrated book explores the stories of 40 women, inviting us to reflect on their story as we contemplate contemporary life. It was the perfect baptism gift for my 21-year-old niece.'
Aike Kennett-Brown – BRF Messy Church ministry lead
'I love the concept behind this book! I am captivated by Micah's artistic interpretation of the women who feature in the Old Testament and particularly how he sees them through the eyes of a young artist. It is a book about power, struggle and injustice, and also hope. Ancient themes which resonate with our contemporary experiences as women.'
Karen Laister – Head of marketing, communications and strategy
'I have two nieces, aged six and four. Amid the changes the last year has brought for them, it's been a joy to see them read Comfort in Uncertain Times. The Bible stories are told in a way that they can follow, and then talking through the questions helps them connect the story with what they are going through. It's been so precious to see Lucy and Clara be excited to open this book, ready to connect with God and talk to him. I highly recommend to parents, aunts/uncles, grandparents and the like!' Becca Turnbull – Editorial assistant
'In Heaven's Morning, David Winter has tackled the taboo subject of death and what happens next in such an approachable and positive way. I enjoy his stories and his layman's explanations of the theological basis for our Christian hope in the afterlife. Few writers succeed in sounding on the page just as if they are chatting to you in their own everyday voice. But David always does – perhaps it's the former teacher and consummate broadcaster in him!' Debbie Thrower – Pioneer, Anna Chaplaincy for Older People​
'Journeying to the Centre of the Soul is challenging, original and fascinatingly wide-ranging.'
Eley McAinsh – Communications officer
'Rachel's book dismantled some wrong views I had held for many years about God and prayer and gave me hope for modelling a living faith with my family. Though on one level a parenting book, I can't think of anyone at any stage of life who wouldn't benefit from reading this. Rachel's stories are so helpful and encouraging!' Chloe Trotman – PA to chief executive, Richard Fisher
'Parenting as a Church Leader was a brilliant read: relevant insights, and much to ponder as we prioritise our children within busy ministry life. Spot-on!'
Lucy Rycroft – Digital marketing officer, Parenting for Faith